Solar eclipse over city. Photo by Henry Groskinsky / The LIFE Images Collection / Getty
Between the solar eclipse, record-breaking heatwaves, and wildfires replacing Portland's famous rains with a shower of ashes, there has been an inordinate amount of drama in the Pacific Northwest lately. With the smoke-filled skies finally cleared, artisan perfumer and author of "Perfuming with Natural Isolates" Shelley Waddington of En Voyage Perfumes hosted the second annual Portland Sniff event on Saturday, October 7 and kept the season's drama rolling in a less apocalyptic direction.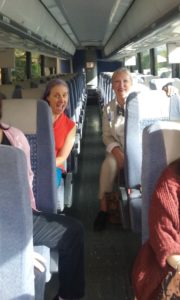 Sandi and Shelley on the bus. Photo by Samantha Berg
Our sojourn began when a handful of us climbed into the enormous bus graciously rented by exuberant organizer Jan Last. Sniffer and rider Roxy Palicka said our driver found us just the right amount of charming, "According to our bus driver, we were as happy as the marijuana peeps he chauffeured, and way more fun than the quilters. Win for the perfumistas!"
The En Voyage Perfume Atelier and Fragrance Gardens. Photo by Steve Ross.
Shelley invited attendees to a light breakfast and a heavy bevy of En Voyage perfume testing in honor of the unveiling of her new The En Voyage Perfume Atelier and Fragrance Gardens introduced to the world and ÇaFleureBon readers in September 2017.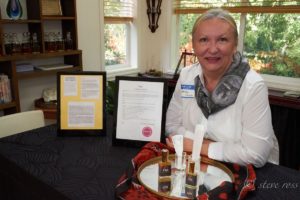 Shelley with Figa, Photo by Steve Ross
The star attraction of the morning was Shelley's potion of strength, Figa, her collaboration with Michelyn Camen, Editor-in Chief for the multi-perfumer ÇaFleureBon Project Talisman. Bright with bergamot, refreshed by geranium, and soothed by labdanum, Figa is a comforting hug in troubled times. Also available to Portland perfumistas were the glycerin soaps of Juan M Perez of Exotic Island Aromatics fame, which attendees generously purchased knowing 100% of the proceeds were sent to aid damage caused by Hurricane Maria.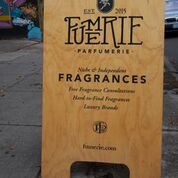 Fumerie sign. Photo by Steve Ross
The next stop was Fumerie Parfumerie to visit with owner Tracy Tsefalas and fragrance historian André Gooren.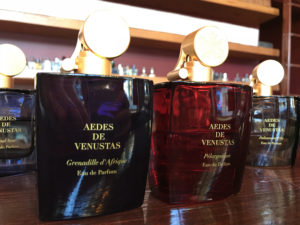 Aedes de Venustas bottles at Fumerie. Photo by Fumerie Parfumerie
Since last year's sniff, Fumerie has begun carrying Ormonde Jayne, the much in demand British line created by Linda Pilkington and Geza Schoen, which finally is available in the U.S.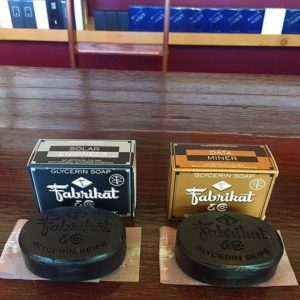 Tauer's Perfume in a Soap. Photo credit Fumerie
New as well are Aedes de Venustas perfumes, as well as Andy Tauer's "Perfume in a Soap" with activated charcoal and available in the utterly unique scents Solar Engineer and Data Miner. As an extra special gift, we got to sniff an advanced sample of the latest unreleased scent by Portland's own Imaginary Authors creative genius, Josh Meyer. I predict this iris scented lovely will wear magnificently in the Pacific Northwest's famously early, bloom-filled springs.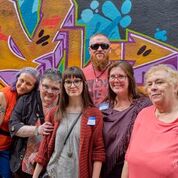 Sandi, Donna, Tara, Jon, Anna, Jan in front of the Street Mural. Photo credit Steve Ross
The bulk of the group walked down the block from Fumerie to invade Atlas Pizza for lunch, but not before posing for photos in front of one of the Rose City's many colorful street murals.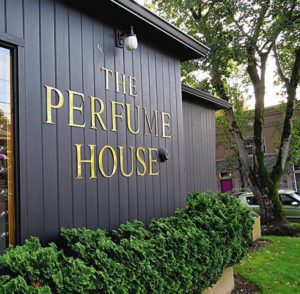 The Perfume House. Photo by Steve Ross
Christine Tsefalas, owner of trendy Hawthorne District's The Perfume House, greeted us and showed off recently added collections from Carner Barcelona, Roja Dove, and Maison Francis Kurkdjian. Leather-based perfumes from Memo Paris sold particularly well and many aficionado eyes were opened to this high-quality fragrance house founded by John and Clara Molloy.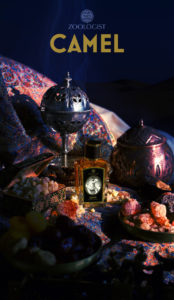 Camel by Zoologist Perfumes. Photo courtesy of Victor Wong
At last year's sniff, attendees got a pre-release sniff of Zoologist Perfumes musky beauty (created in collaboration with Shelley) Civet. For 2017 we previewed another incredible Zoologist creation, Camel, which Robert Herrmann, Sr. Editor of CaFleureBon was the first to review. Victor Wong's Oriental beauty transports you to a desert oasis with honeyed palm dates, vanilla, sandalwood, and an evening's breeze of incense off the sand dunes.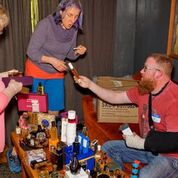 Every table was stuffed with bottles! Photo by Steve Ross
Jon Wilson organized The Big Swap through a system based on how André and Tracy have been orchestrating swaps at Fumerie's regular bottle exchange nights. I have heard nothing but high praise and how pleased everyone seems to have been with the most action-oriented portion of the day.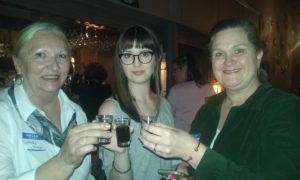 Walnut liquor and a farewell toast. Photo by Samantha Berg
Perhaps you didn't know that Shelley is as talented with edible elixirs as she is with wearable ones? Liqueur de noix (nocino) is a delicious, dark green walnut liqueur made in Italy and France. Nutty and subtly spiced, this Portland batch of the traditional liqueur was made just for the Portland Sniff.
Samantha Berg, Guest Contributor and CaFleureBon reader
Editor's Note: Reader DGAMBAS made us aware of Juan Perez's Go Fund Me campaign so that he can rebuild his business after Hurricane Maria. Support our Artisans! https://gofundme.com/exotic-island-aromatics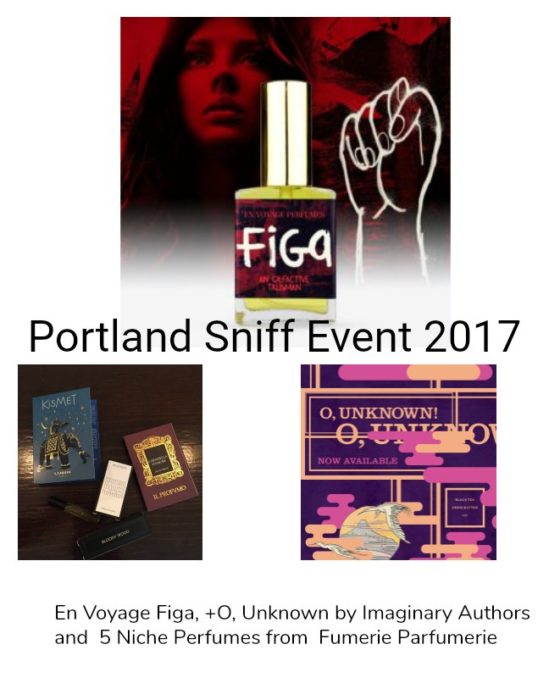 Thanks to magnanimous hostess Shelley, we have a .5oz bottle of En Voyage Figa ($60 value) available worldwide. In addition, Tracy of Fumerie Parfumerie is offering samples of Ormonde Woman, Lubin Kismet, Vanille Marble by Agonist, Bloody Wood from Liquid Imaginaires and Il Profumo Caramella d'Amore. In addition, Josh Meyer of Imaginary Authors has graciously offered an avant premier sample of the new O, Unknown (you must register or your comment will not count click here). To be eligible, please leave a comment with what you enjoyed about Samantha's event report, which scents caught your nose, and where you live. Draw closes 10/24/2017
We announce the winners only on our site and on our Facebook page, so like Cafleurebon and use our RSS feed…or your dream prize will be just spilled perfume.