In a recent review of three SlumberHouse perfumes by Managing Editor Mark Benke (draw ends July 25, 2011), we asked who your favorite perfumers were on IndieScents.com . DSH Perfumes and Sonoma Scent Studios were among the faves. We have done a CaFleureBon Profiles In America Perfumery for DSH, so its with pleasure we introduce our new readers to Laurie Erickson of Sonoma Scents. Laurie is no stranger to our site even when we were a baby blog, she spoke out on the future of perfumery as the anti perfume movement grows stronger..
Laurie grew up in rural town called Woodside in the San Francisco Bay Area. When she was young, Woodside had a very small town feeling; neighbors knew each other and felt connected to the community. The area has lots of oak trees and several beautiful wooded parks, so Laurie grew up loving the local riding and hiking trails.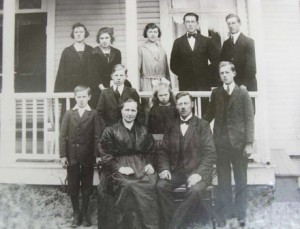 Laurie's family 1922/1923 all rights reserved This shows her grandfather (second in back from right) along with his eight siblings and parents.
Profile: Laurie's father is Swedish. He lived in Sweden for two years when he was young, but he spent most of his childhood in San Francisco. His Dad was born in Sweden and came to the USA a a young adult. His Mom was born here but was also Swedish Laurie's paternal grandparents were fluent in Swedish but she only learned a few words and phrases. "My family visited Sweden the summer after my first year in school; whe was too small to fully appreciate the trip, but I have good memories. I have many relatives in Sweden because my Swedish grandfather had eight siblings, and some of our Swedish relatives visit the USA once a year. My Mom is a mixture, mostly German and Irish, so I am half Swedish. Our last name was originally Erickkson, but for some reason they thought Erickson sounded more American".
On American Perfumery:
I think the strong indie movement here in America springs from our entrepreneurial spirit. As our society has become more reliant on technology, people enjoy getting back in touch with hand-crafted items, both as creators and purchasers. There's something special about things that have been created directly by the artisan rather than mass produced in a factory. The web has allowed small businesses to flourish by connecting creators and buyers, so the technological advances have helped the growth of indies. The surge of indie perfumers is exciting because it fosters new ideas and approaches, with creations coming from artists' perspectives rather than from market-driven focus groups.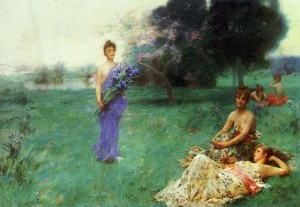 Laurie

chose To Dream as the most fitting for the American theme, partly because the name reflects the freedom we have to follow our dreams and try to make them come true. Also, To Dream incorporates a wide variety of elements into a cohesive and interesting whole, which seems American.

–Michelyn Camen, Editor in Chief
However especially for our readers Laurie offer a reader's choice for a purse spray.
T o be eligible log on to www.sonomascentstudio.com/FragranceShop.shtml and choose your scent and leave a comment why it is your American dream or why this draw is a dream come true.PLEASE CHOOSE A SCENT OR YOUA RE NOT ELIGIBLE. Draw ends July 27, 2011. PLEASE LIKE CaFleureBon Profiles in American Perfumery because this series will run throughout the remainder of the year .And your entry will count as two .
Editor's Note:Laurie chose American painter Mary Cassatt who was born in 1844 in Pennsylvania; she went on to become one of the most prominent female painters in the Impressionist art movement as her favorite American artist.It was a time when there weren't even that many woman painters at all (painting wasn't necessarily "ladylike"), and Mary Cassatt stood out not only for her involvement with such an important movement as Impressionism, but for the quality of her art