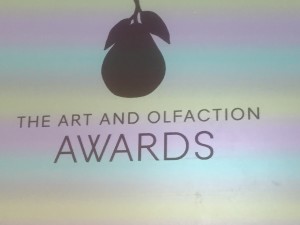 On April 1, 2016 at Esxence the Scent of Excellence in Milan, Saskia Wilson Brown of The Institute for Art and Olfaction announced the finalists for the third annual Art and Olfaction Awards. I had the pleasure of being at the ceremony.
How it works: As with last year, two winners will be selected from the categories Artisan and Independent, and one winner will be selected for the Sadakichi Award for Experimental Scent. Each winner will receive The Golden Pear, which continues to cement its status as a prestigious achievement in the independent, artisan and experimental perfume world. The finalists were selected by a group of highly qualified judges from the perfume world, the art world, and other creative industries. The artisan and independent category submissions were judged blindly, presented in generic vials and tracked by a numerical code. The preliminary round judges selected the finalists, and the finalist round judges will select the winners.
Independent Category Preliminary Judges: Steven Gontarski, Yvettra Grantham, Neal Harris, Laura Johnson, Sherri Sebastian, Lizzie Ostrom (aka Odette Toilette)
Artisan Category Preliminary Judges: Antonio Gardoni, Hank Jenkins, Ashley Eden Kessler, Daniel Krasofski, James McHugh, Persephenie Lea
Independent & Artisan Categories Finalist Judges: Mandy Aftel, Mark Behnke, Sarah Horowitz-Thran, Kaya Sorhaindo, Andy Tauer, Luca Turin
Sadakichi Award for Experimental Scent Projects Judges: Allison Agsten, Dr. Kóan Jeff Baysa, Peter de Cupere, Deji Bryce Olukotun, Ashraf Osman
The finalists for 2016 hail from 14 countries and represent the spectrum of scent , and artistic interpretation of fragrance
SADAKICHI AWARD FOR EXPERIMENTAL WORK WITH SCENT – FINALISTS
Century's Breath Cat Jones – Sydney, Australia
Dear Enemy Christi Gast – Tierra Del Fuego, Chile and New York, USA
Signal Carrie Paterson – Los Angeles, USA
The Juice of War – Hiroshima and Nagasaki Maki Ueda – Amsterdam, The Netherlands
Western Drive Kellen Walker – Fort Worth, USA
ARTISAN AWARD – FINALISTS
Albino (A Study in White) By Dawn Spencer Hurwitz DSH Perfumes – Boulder, USA
Bird of Paradise, By Jennifer Botto Thorn & Bloom Perfume – Somerville, USA
Cape Cod Wild Beach Rose by Aggie Sygnarowicz Burnet Nomaterra Fragrances – New York, USA
Incendo by La Curie by Lesli Wood- Tucson, USA
Love for 3 Oranges By Amber Jobin Aether Arts Perfumes – Boulder, USA
Miyako Auphorie Zhe You (Eugene) Au Malaysia
Musk Rose Attar By JK De Lapp Rising Phoenix Perfumery – Atlanta, USA
Namibia By Tammy Frazer Frazer Parfum – Capetown, South Africa
Peach Tree Garden by Irina Adam Phoenix Botanicals – New York, USA
Salomé by Liz Moore Papillon Perfumery – Salisbury, UK
INDEPENDENT AWARD – FINALISTS
Bat by Victor Wong Zoologist Perfumes (Dr Ellen Covey Perfumer) – Toronto, Canada
Dark Ride by Xyrena (Killian Wells) – Los Angeles, USA
Fougère Nobile by NOBILE 1942 – Stefania Giannino, Perfumer Anne-Sophie Behagel Genoa, Italy
Elephant + Roses by Maria Candida Gentile Maître Parfumeur – Sarzana, Italy
Néa By Creative Directors Madalina Stoica and Julien Blanchard JUL ED MAD Paris – Paris, France (Perfumer Luca Maffei)
Panorama by Creative Director Celine Verleure Olfactive Studio (Perfumer: Clement Gavvary) – Paris, France
Past | Presence by Roads Roads Jean-Charles Mignon (with Danielle Ryan) – Dublin, Ireland
Rose de Taif Extrait by Perris Monte Carlo – Monaco, Monaco ( Perfumer Luca Maffei)
Salim Attar by Tabacora Parfums (Perfumer) Christian Carbonnel- Jelesnia, Poland
Waiheke Dreams by Juliana Parfums Co. Yves Dombromsky (with Juliana Van Kampen) – Auckland, New Zealand
The winners will be announced at the Third Annual Art and Olfaction Awards on Saturday, May 7 in an open-to-the-public event at Hammer Museum, with special guest emcee Zackary Drucker (Whitney Biennial 2014; Co-Producer, Golden Globe and Emmy award-winning Transparent).
Michelyn Camen, Editor in Chief