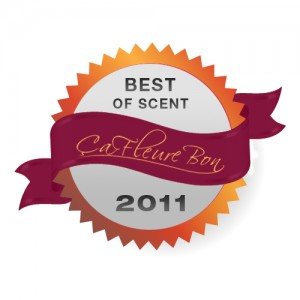 As the end of the year arrives it is time to look back over all that the last twelve months have produced and list the best of the year. In 2011, I tested 471 new releases and reviewed 207 of them. Even those numbers didn't allow me to test half of the new releases for the year. The fast and furious nature of these releases makes it difficult for anyone to truly have a handle on everything that came out in any given year. That being said out of those new fragrances I did try there were some pretty amazing releases.
There were a couple of trends that seemed to show up throughout the year. The continuing encroachment of the niche aesthetic into mainstream releases continued with Anthropologie being the most evangelical in doing this; as the releases in conjunction with Ineke Ruhland were among my best of the year. The Paris exhibit Reves de La Beaute had three perfumers look to create a synergy between visual and olfactory art. Cecile Zarokian's six fragrance collection, [IP]01, interpreting Matthieu Appriou's illustrations was the most breathtaking, and the best purely artistic collaboration of the year, but because these are not for sale I chose not to include them in my top 25. The other two perfumes from that exhibit are represented and I hope we see more of this, not only in Paris. The final trend was the release of multi-perfume collections from six to eight fragrances at a time. While each of these releases has clear winners and inclusions in my list, the sheer volume damns the slow burners to be buried and that is perhaps a tragedy. If two were released every three months it would allow for a better chance to fully explore all of the fragrances.
There were 25 from all that I tried this year that rose above and embedded themselves in my consciousness.

My Perfume of the Year is by my Perfumer of the Year, Mona di Orio. Les Nombres D'Or Oud was hands down the best fragrance I tried this year. I don't think I've gone four days without wearing a spritz of it and marveling at what an amazing piece of creativity this is. If you had told me in June my perfume of the year would have been an oud-centric fragrance I would've laughed. Mme di Orio took the most overused note of the year and by choosing to take a different path showed no matter how trite the note a true artist can find new dimensions to explore. There were three other Les Nombres D'Or released during 2011; Tubereuse, Vanille, and Vetyver. As Mme Di Orio did with oud she took all three of these well-worn notes and breathed new life into them. Vanille in particular has been winning over a number of my vanilla-phobic friends. To have Mme di Orio snatched away from the earthly atelier seems cruel but her last four creations prior to her death showed an artist at the peak of her creativity.
The remaining best of 2011 in alphabetical order:
Abdes Salaam Attar Sharif– A full-blooded fragrance by one of our best indie natural perfumers
Amouage Opus V– The melody of this Opus was orris and it was a symphony of that note. Christopher Chong tweeted Opus VI is "smoke and tar" which officially makes it my most anticipated 2012 fragrance.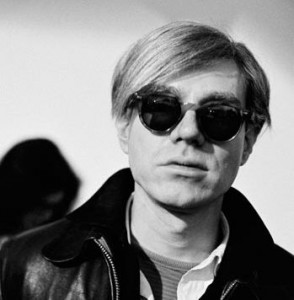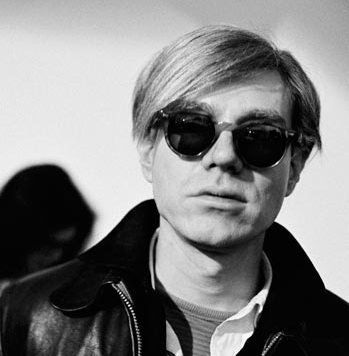 Andy Warhol by Bond No. 9– Bond No. 9 had a good year but this one hit it out of the park. My favorite Bond No. 9 since High Line.
Anthropologie and Ineke Floral Curiosities Scarlet Larkspur– Anthropologie keeps bringing niche to the masses and Ineke Ruhland did not disappoint in any of the four fragrances she made for them. Scarlet Larkspur with its deep claret note made me want to drink it up and as the weather has turned colder I keep filling my fragrant glass up. The only drawback no "H" for 2011.
Blood Concept O– This was my favorite collection of the year as it was the most cohesive. Early on the modernism of AB beckoned me but over time the animalic caveman smashed my iPad and captured my beating heart.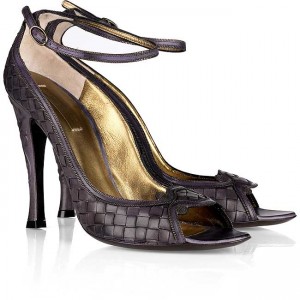 Bottega Veneta– The best designer fragrance of the year as Michel Almairic created a floral chypre with a leather foundation that evokes the famed woven leather goods Bottega Veneta makes.
Carner Barcelona Cuirs– Another new discovery this year and this third release, to follow up the original D600 and Tardes, was the best. It is a bit of a prickly fragrance to love but if you delve into its charms your journey will be a long one.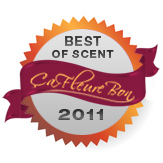 Cartier Baiser Vole– Mathilde Laurent is creating the best in-house collection, of any perfumer in that post, at Cartier over the last two years. Baiser Vole smells so like a fresh lily it is absolute magic. It is surprising that this was better than the L'Heures released this year, but it was.
Christian Dior New Look 1947– This got lost a bit amidst the rest of this seven fragrance collection but as time went on this layered floral composition became more fascinating as I wore it more and more. In January Leather Oud was the best of this collection by December this became the winner.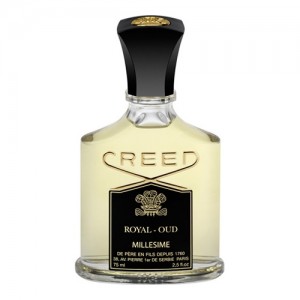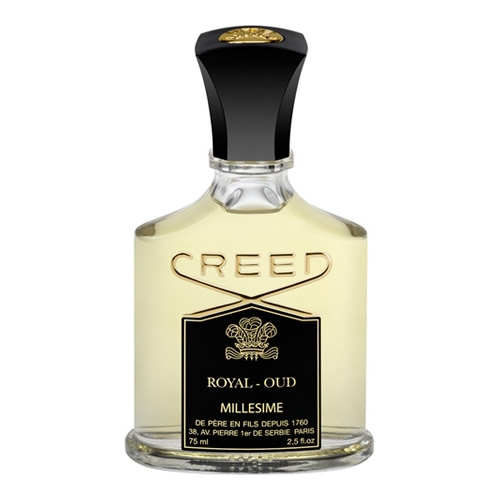 Creed Royal Oud– Another strong year for the House of Creed was led by Royal Oud. This completely transparent oud was mesmerizing and testament, again, that oud doesn't have to be boring. This is the best Creed of the 21st century.
Douglas Hannant de Robert Piguet– Unfairly dismissed as Fracas Lite due to its tuberose heart, Aurelien Guichard created something much more subtle and complex for the first new Robert Piguet fragrance in over 40 years. The rumor mill tells me the next new one will come much sooner, here's hoping.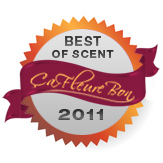 Eau D'Italie Jardin Du Poete– Bertrand Duchaufour makes me want to live under the tyranny of his perfume creativity forever.
Hermes Hermessence Santal Massoia– Jean-Claude Ellena has made the second best of the entire Hermessence line. 'Nuff said.
Humiecki & Graef Blask– With Blask, Les Christophes return to the dark side and this thoroughly modern fragrance stands out due to that aesthetic.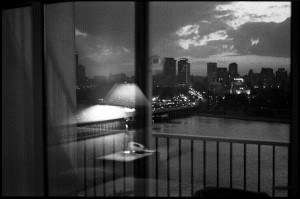 Olfactive Studio Chambre Noire– All three of Celine Verleure's Olfactive Studio releases are quite amazing but it was Dorothee Piot's creation inspired by Clemence Rene-Bazin's photograph of a balcony view of a city at night that was the winner.
L'Artisan Parfumeur Mon Numero 8– The Mon Numeros finally were released and of the seven released it was No. 8's orris, osmanthus and narcissus that slayed me. Bertrand Duchaufour took those three notes and created a prime number out of No. 8.
Maison Martin Margiela Untitled– When I hear that vintage green fragrances can't be recreated due to IFRA restrictions I spray a bit of this on to expose that lie. Untitled proves it is easy being green.
Neela Vermeire Creations Bombay Bling!– Sometimes fragrance should just make you want to sing. Bombay Bling! made me want to get my Bollywood on, too. Bertrand Duchaufour's most original 2011 composition out of the sixteen he released.
Parfumerie Generale Indochine– Pierre Guillaume's sepia toned portrait of the Mekong Delta. I have been surprised at how this changes on my skin between hot days and cold nights. Best PG in the last two years.
Phaedon Dzhari– Pierre Guillaume did two for this new line but Dzhari transported me to the caravansary and made me want to never leave.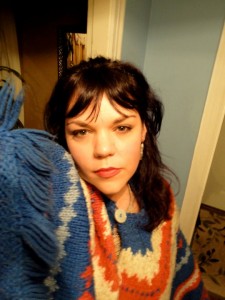 Providence Perfume Rose Boheme– Charna Ethier is my favorite new star of 2011. The more I try each new release the more convinced I am that her star is on the verge of going supernova.
Smell Bent Mountain High– Brent Leonesio has taken Smell Bent to new highs in this second year of its existence with Mountain High the pinnacle for 2011.
Soivohle Leather Krem– Liz Zorn composes a leather to remember with the depth only a small independent perfumer can bring to a fragrance.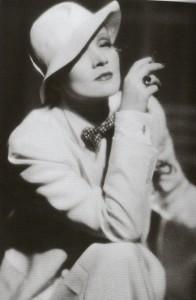 The Pink Room Darkly Audacious– Sarah Barton-King creates a fragrance worthy of Marlene Dietrich and a night in Montmarte. A modern composition that feels vintage
Xerjoff Richwood– A sandalwood fragrance that explores the depth and breadth of that note, it is captivating every time I wear it.
Overall I believe 2011 was a better year than 2010 with more on my list that will stand the test of time and be part of my collection forever.
Leave me a comment letting me know what I left out or what you think I got right. I'll be around to respond to both plaudits and brickbats.
To see what EIC Michelyn Camen and Editor Tama Blough thought of 2011, click here.
–Mark Behnke, Managing Editor