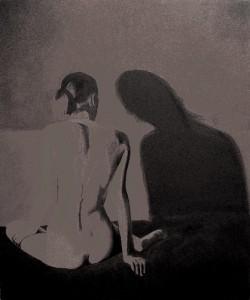 There is that moment when you hear the music from a new band or read a book by a new author that you believe you're looking at the beginning of a beautiful future for the artist. When it comes to perfume that experience comes along less frequently. Although the current climate which has become so fertile for artisanal perfumers like Dawn Spencer Hurwitz, Neil Morris, and Liz Zorn allows for this to happen more frequently. That was why on day two of Sniffapalooza's Spring Fling 2010 I was looking forward to the emerging perfumers lunch where a number of artisanal perfumers would show us their latest creations. Of all of the talented perfumers who presented, there was only one fragrance which really hit me in that sweet spot that told me that I might have a new artisanal perfumer to keep a close eye on.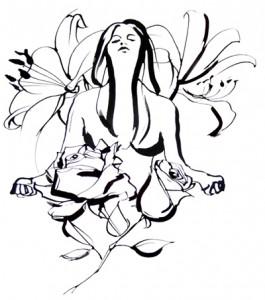 That perfumer is Jessica Buchanan and her perfume label is called 1000 Flowers and the fragrance which has me so intrigued is Reglisse Noire.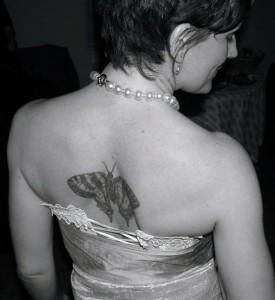 Natural Perfumer Jessica Buchanan (Photo Courtesy of Jessica Buchanan)
Ms. Buchanan is Canadian by birth but after her stint in France at the Grasse Institute of Perfumery you get the feeling the passport of her heart has a French citizen stamp on it these days. Prior to going to Grasse to study she was a clinical aromatherapist and had extensively studied essential oils as part of that avocation and it seems as if that familiarity with these ingredients adds a depth to her style of perfume making. After her internships at the two Grasse perfume houses of Robertet and Mane she has now begun her own perfume line 1000 Flowers. Her vision for 1000 Flowers is in her own words, "Exploring the creation of perfume based on the ideals of…..beauty in balance". Her approach as is common with many of the current crop of artisanal perfumers is to use primarily botanical and organic raw materials from green sources. This is an admirable goal of any perfumer but sometimes the use of these ingredients can lead to fleeting short-lived fragrances that sometimes come off as nothing more than glorified air freshener. It takes an artist of Ms. Buchanan's experience and training to coax the best out of these ingredients and make them much more than the sum of their parts. In her first fragrance, Reglisse Noire, Ms. Buchanan has done this in spectacular fashion.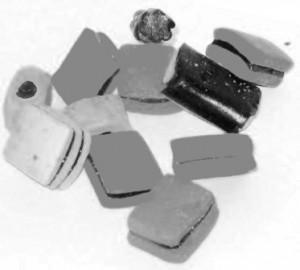 I love the smell of black licorice and while I was the kid who pulled the black jujubes out of the box because I didn't like the flavor the smell of good black licorice has always contained a rich herbal quality to it that hasn't been captured, to my satisfaction, in a fragrance. Reglisse Noire, which means Black Licorice, is the fragrance which finally gets that deep licorice accord I've been looking for. There have been some good licorice fragrances like Caron Eau de Reglisse, Lolita Lempicka au Masculin and Hermes Hermessence Brin de Reglisse but while all of them have prominent licorice aspects none of them go as deep as Reglisse Noire does on my skin. Consequently Reglisse Noire is much more pleasing to me as a fragrance.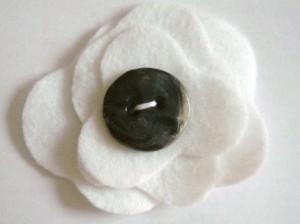 Reglisse Noire opens on an exquisite mix of white pepper, ozone and shiso. It is that ozone note that adds a quirky edge to the opening and the pepper and shiso give the proper herbal footing for the descent into the black the heart will bring. The heart of Reglisse Noire is licorice in both of its familiar fragrance forms of star anise and licorice itself. The anise is the light opening as the rest of the licorice comes forward and intensifies the accord. The other two notes in the heart really make Reglisse Noire come alive the freshness of ginger in the early development makes the star anise sparkle. It is the addition of a cocoa note that takes the licorice accord and adds a real depth to it that I have never experienced in a licorice fragrance before. The licorice stays firmly on top of things as a warm musk softens things a bit and allows Reglisse Noire to slowly fade to black.
Reglisse Noire has excellent longevity and average sillage.
If you are the kind of perfumista that picks out the black jujubes of fragrance and excludes them from your wardrobe then Reglisse Noire is not going to be for you. On the other hand if you are a fan of the licorice accord and have always wanted a fragrance which was unafraid to explore the depth of this accord and find the potential in it then you definitely need to add the black jujube of Reglisse Noire to your fragrance wardrobe.
Disclosure: This review was based on samples acquired at Sniffapalooza Spring Fling supplied by 1000 Flowers.
– Mark Behnke, Managing Editor
UPDATE: Reglisse Noire is now available at Indie Scents.
Editor's Note: Sorry I missed you Jessica, a bien tot! We look forward to your next perfume