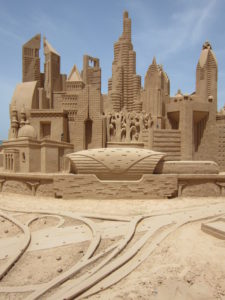 Dubai a City built on Sand
As a Fine Fragrance perfumer for Symrise, I had the chance to spend exactly 1000 days in Dubai and I toured the region for both my work and as a tourist. I visited Syria, Lebanon, Jordan, Egypt, UAE, Oman, India, Turkey, Saudi Arabia, Qatar and Bahrain. This was from 2012 to November 2015, where my lab was in a beautiful creation studio in the heart of Knowledge Village, Dubai, UAE.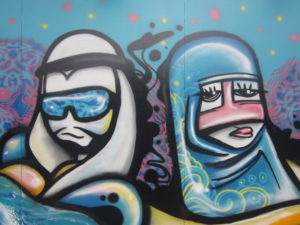 Now back in Paris, I want to share this incredible experience which changed my perfumery and my life. Come with me under the Arches of the Portuguese fort in Manama, in the Katara cultural village in Doha, on the top of Jabal Akhdar or hearing the evening prayer in the beautiful Al Badiyah mosque in Fujairah.
Orient is calling…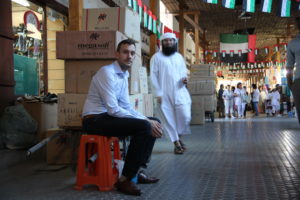 Perfumer Pierre-Constantin Guéros In the Dubai Souk
There has always been among Europeans a sensual attraction to the Middle East. Alexandria and Constantinople were always seen as the capitals of insolent luxury. Honey, Gold, Incense and Rose bath being part of daily life. Incredible wealth, skyscrapers, Sand dunes and complicated political situation are the clichés of modern Arabia but we still keep in mind some of this oriental dream. Middle Eastern perfumery has been relatively unknown in our culture but for over a decade now, it has been the focus of many international fragrance companies, becoming an important growth booster and trend setter.
Let's discover this wonderful phantasmagoric world through the eyes of a perfumer who happily spent thousand days in this magical scented kingdom.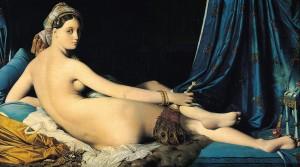 Jean David Auguste Dominique Ingres, La Grande Odalisque,1814
The Oriental dream – The Orientalists.Women sleeping on a blanket in the sunset light, Incense smoke in the Harem, Gentle noise of a fountain in an Islamic garden, the painters and poets of the 19th century were greatly inspired by the Levant considered as a world of pleasure, sophistication and harmony. Great examples are Ingres's The Grand Odalisque or Lawrence Alma-Tadema.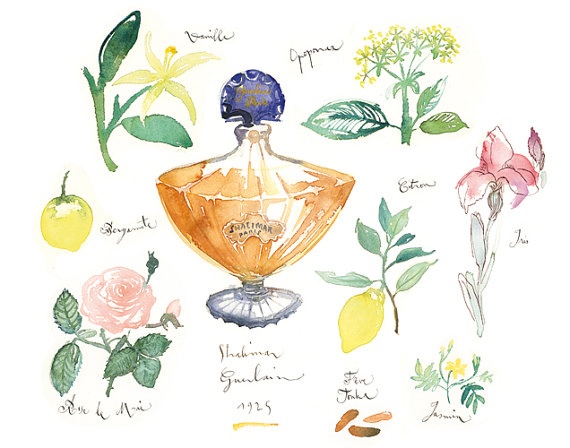 Shalimar Illustration –used with the permission of Parisian Artist Lucile Prache (Check out her art on Etsy)
This reputation will last for decades and will be the starting point of an incredible trend all over Europe, Orientalism. Turbans, Ottoman dresses but also perfumes were inspired and named after Pashas, Maharajahs or Harem's favorites…Ambre de Delhi, Afghan, Rose Gulistan from Parfums Babani, Shalimar and Samsara from Guerlain. But instead of using Incense from Salalah and Galbanum from Iran, Perfumers of this period used Vanilla from Madagascar, Peruvian Tonka beans, Indian Sandalwood and Italian Bergamot to create accords that would become what we call Oriental Perfumes. Unfortunately these accords have nothing to do with scents developed in Arabia for centuries (attars, moukhallats, bakhoor etc) and will confuse generations of perfumers and perfume lovers.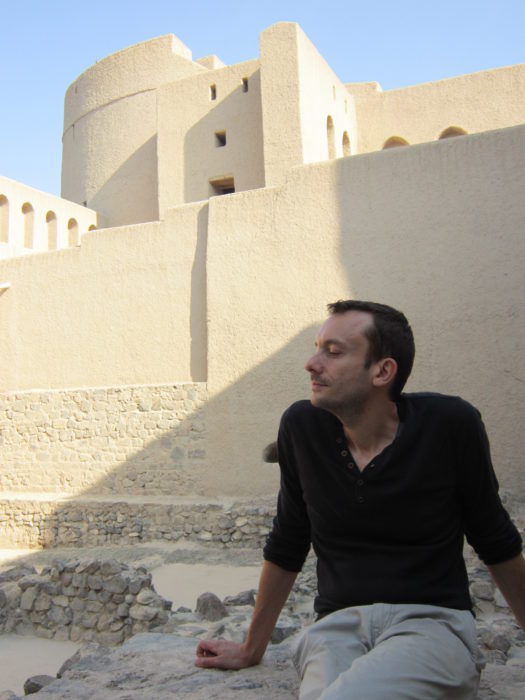 Pierre-Constantin Guéros in Oman
The hub of the perfume creation in the Middle East is Dubai and the fearless and adventurous perfumers will not hesitate one minute to buy a business class ticket on the brand new A380 from Emirates Airlines to discover the secrets of this true oriental perfumery everybody is speaking about but that will only reveal itself to those who dare leave the traditional Perfume capitals to discover this new Mecca of Perfumery .
As I arrived at Dubai International Airport, I was immediately amazed by two things :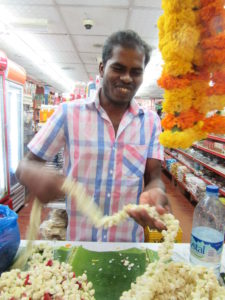 An Indian Selling flowers in a Dubai Souk
First, the impression of a modern Tower of Babel surrounded by an incredible mix of faces, religions, costumes and languages. After some time I would be able to recognize the Omani national hat from the Yemeni one.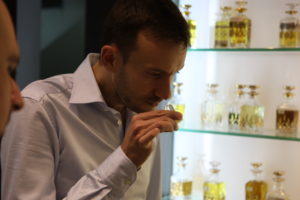 Pierre in a Dubai Souk smelling Arabic fragrance
And then white silhouettes for men, dishdashah and black for women, abayah, which seems to fly a few centimeters over the ground, like perfect waves of immaculate fabric. The khol surrounding deep eyes and this incredible sillage, the power of beautiful faceted perfumes everywhere. A perfumer is of course delighted by this scented overdose and immediately understands the incredible place that perfumes have here in people's everyday life. As a symbol of luxury and beauty of course but also part of the tradition of hospitality.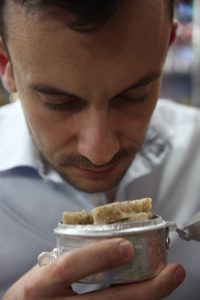 Pierre smelling Bakhoor Abu Dhabi
Traditionally burnt in a burner called Bakhoor, the smoke of fragrances always welcome a guest in an oriental house, as a sign of respect and hospitality. In this burner, you can burn little chips of agarwood but more commonly cheaper wood, covered with labdanum resin and perfumed in any possible way. The smell of the bakhoor which will fill up the air, is the olfactive identity of the family and can be matched with the perfume used on clothes. The host can spend fortunes for his bakhoor. For Muslims, compared to Christians which always considered perfume as Evil, perfumes stay a very sacred thing. Source of Joy and Happiness, many parts of the Holy Koran mention aromatic plants. You can visit for example a beautiful Islamic Botanical Garden in Sharjah, and very soon in Dubai, based on this list.
In addition, for a Muslim it is mandatory to pray with clean feet and hands, which leads to the ablution traditions and it is recommended to bring back from Meccas pilgrimage (Hadj or Oumra, the small or the big pilgrimage) gifts for the community, friends and family .Among them perfumes from Makkah (for the others there are different variants Dates, Zoum Zoum spring water etc)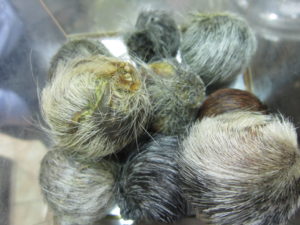 Real Musk sold in a perfume souk
Making the trip to Jeddah and the Makkah region in Saudi Arabia a must for the perfumer. There are many perfume suppliers around Makkah who offer for generations to the pilgrims traditional oils of musk, amber, rose and oud but also more modern perfumes. They can be used as such directly on the skin or clothes or mixed in any combination, creating a moukhallat or traditional perfume mix.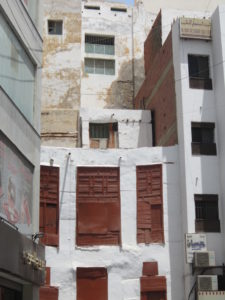 Jeddah Saudi Arabia Old Merchant Houses
As a Christian, you cannot enter the Holy city of Makkah and you meet most of your customers in the international hotels in Jeddah, huge port city on the Red Sea. More relax than the capital Riyadh, Jeddah is a pleasant city were you can enjoy smoking shishas or drink tea in the evening wind. The city itself is not very picturesque except the souk, the old merchant houses made of coral stones and the fish market. Wonderful exotic fishes from the Reef directly grilled and served over a freshly baked Arabic bread is the only delicacy.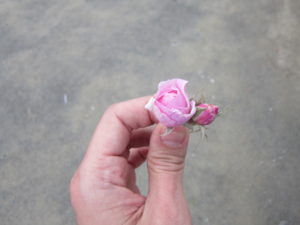 Pierre Holding a Taif Rose
In addition Jeddah is the starting point to discover the surrounding Mountains and the Taif Valley where grows on of the best kept secret of the Peninsula, The Taif Rose.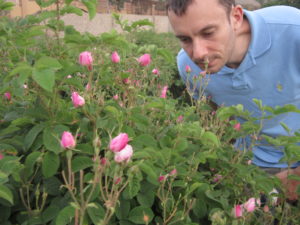 Pierre smelling Taif Roses
It is quite a dangerous road which leads to the city of Taif. Endless laces in an old taxi, three hours of driving in the Mountains between trucks, impatient drivers and as you approach Taif, the famous Mountain Baboons. Taif well known in the region for the monkeys, the relative freshness of the weather and the Taif rose fields.Taif Rose is used in many fragrances in the Middle East and in the West but as you enter the Taif valley, you immediately understand that the quantities of rose oil produced there will not be enough to meet the demand. Most of the farmers have very small fields, between artisanal distilleries, houses, mosques and the flower itself is so small that you could easily overlook it if its aroma was not so powerful and singular. It is a damascene rose with fragile petals, a fresh honey like, vivid and fresh smell which reveals itself in the deadly heat of Arabia.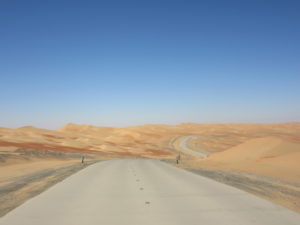 The neverending roads of the Empty Quarter
If you never experienced summer in the Arabic Peninsula, you cannot imagine how dreadful the desert can be. Extreme temperatures, blinding sunlight, force human beings to hide like little desert rats in the cool artificial breeze of their car or in the malls. Of course the desert is also magical, lights and colors changing all the time, shadows over the dunes, mystic of a spiritual emptiness but Bedouins living in the "Empty Quarter" know also how dangerous it can be.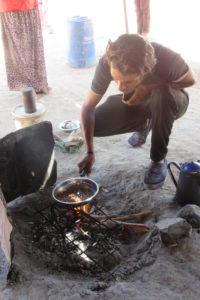 preparing traditional coffee in Jordan
Only a few decades ago, Bedouins, among the Dubai and Abu Dhabi tribes, were living in very harsh and primitive condition in the desert. In that unfriendly environment, you cherish traditions of hospitality. If you want to know more about the Gulf Region before the oil boom, the best source are the amazing black and white pictures of Thesinger, who captured the simple but meaningful life of the Bedouins between tribe codes, camel farms, weaponry and falconry.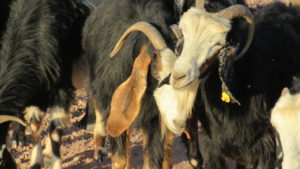 Bedouin Camps Jordan
I had the chance to share the Bedouin's simple life for a few days in the Dana National Park in Jordan. One of the most exciting moment is the Coffee ceremony. It has nothing to do with Turkish coffee but looks more like a greenish liquid with cardamom seeds floating on the top. Coffee beans are directly roasted on a pan, plunged into hot water and a few green cardamom seeds added at the end. The ceremonial is amazing and discussions around the coffee cups can last for hours. Amazing smell of vivid aromatic cardamom combined with smoky, burnt coffee beans. Dates traditionally come with the coffee.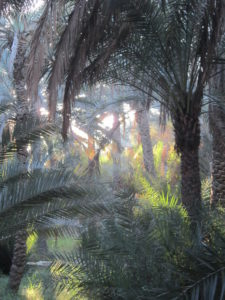 In the Oasis Palm trees
The Palm tree, producing dates, is originally from Saudi Arabia but know days more than 700 species are growing all over the Peninsula and the world. In the Jeddah Souk, you can taste the Ajuan , dry black, favorite from the locals to the Sukhari soft, caramel like , so soft you have to keep it in the fridge. It is another great sensorial memory which inspired me a lot. You can check on bateel.com, very well-known date shop in the Middle East.For centuries, dates were the only fruits produced in the oasis…so people turned to the ocean for a better living.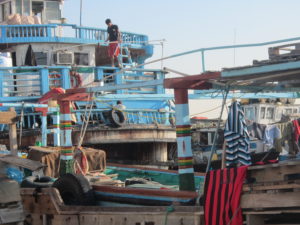 Boats of Iran Dubai Creek
Trade between India, Iran and Dubai, Pearl fishing made the city flourish in the first half of the 20th century. In the souk in Dubai you can still see these wonderful blue wooden boats full of tires, fridges, plasma TV or concrete ready to reach the Iranian coast after a few hours on the sea, but more than Persia, India influenced Dubai and the all UAE in all aspects of everyday life. Most of the population of the UAE come from India and surrounding countries, among them many Perfumer dynasties (Ajmal, Al Haramain, Rasasi) being the top brands in the region.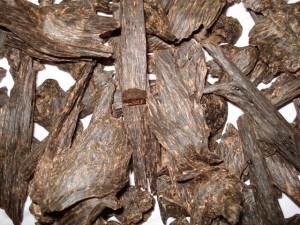 Agarwood (oud)
In addition most of the iconic perfumery raw materials in the Middle East come from India or South East Asia..Sandalwood, Jasmine, Spices and of course Agarwood. Agarwood (oud) is the pillar of oriental perfumery. For a great agarwood oil, you need a tree, an old tree from the Aquilaria family, a fungus, time and know-how. If you do it right, you get an oil so rich and powerful , so facetted that a professional panel will need more than 100 different words to describe it….Animalic, leathery, dry, humid, fruity, ambery etc. And if you want to create an replacement, a base, it is almost impossible as it contains so many chemical ingredients as the GC shows. Agarwood is the trademark of all oriental fragrances usually combined with rose, other oody notes or even more recently with fresh citrus or green notes. Fruity and Citrus are trendy right now and the Middle Eastern perfumery evolves at its own path, like anywhere in the world.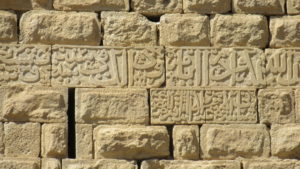 Jordan
Perfumery changes because the Arabic world is changing. With a different time frame in each country. It would be a big mistake to consider the Arabic world as one, when each country, each region proudly fight for its traditions and differences…including perfume traditions For example Beirut or Istanbul is seen almost as European cities by Emiratis. They enjoy the on the Lebanese Riviera a less conservative way of Life, enjoy beach, clubbing and late night out in the summer breeze. On the Beirut Corniche, there is no agarwood to smell but only international brands like anywhere in the Western World.
Lebanese in particular are very involved in the regional perfume business and are very proud of their singularity. First their traditional dialect, considered as one of the purest Arabic form, but also their ability to speak so many languages, English of course the business language but also French just because it sounds chic. They are almost the only Arabs to know the joy of snow battles on a winter day and have, the best tomatoes in the world.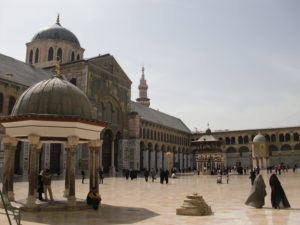 Omeyade Mosque Damascus,Syria
And that is the same National pride for each of the Muslim countries. They are so different, republics or conservative monarchies, continent or small Island, Sunni or shia, incredibly rich or just struggling. And these differences have a great influence on local perfumery.Let's speak about the three top countries in the region and their differences in term of fragrances.
We usually classify perfumes sold in the region into three categories.
First Orientals, meaning the most traditional perfumes, sold in the Souk market or traditional shops in a concentrated form.
Then French Orientals which combine some classical oriental directions (oud, rose, musk or amber) with touches of modern international brand perfumes ( fresh citrus, fruity, green etc.).
Finally French perfumes, covering basically the western brands.
Perfumes sold in Iran are almost only French, when due to its history, conservative culture and role in keeping the Holy cities of Islam, Saudi Arabia prefers Orientals. In between the UAE, which is now days a very open and mixed society is homeland for French Orientals.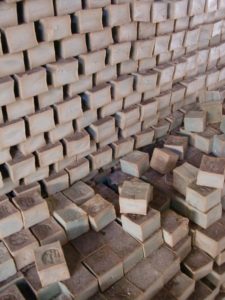 Alleppo Soaps Syria
Thanks to this cultural mix, Dubai and Abu Dhabi have become the new capitals of perfumery setting trends and creating unique beauty routines. You see a lot of Locals using first very thick traditional oil on their skin (mostly musk), on which they will spray a less concentrated French perfume (Aventus Creed for example, very popular in the region). That is called layering. Speaking of mixing French and Arabic culture, they are more and more French expatriates in the UAE and among them some perfumers. There was a time when perfumers where touring the region with a suitcase full of samples but this is over. In their suitcase, perfumers now take wives and kids to live their lives under the Dubai sun.
Tradition and Modernity Doha Quatar
Attracted by a tax free country where every week-ends feels like small vacation but mostly because being a perfumer in the Middle East sounds like a dream job. Few marketing teams, almost no evaluators, customers are all perfume lovers. They speak about raw materials, strength, accords and harmony, never of positioning or packaging. Customers very often choose the perfume first in which they believe and then care for the bottle. The scent is in the middle of everything. A scent they will first try in their shops with loyal customers and then launch on a bigger scale if they pass the first test. A scent they will wear, they will speak about, knowing its weakness or strengths.
As a scent developing in time, the business relationship also needs some months or years to evolve. Many lunches and dinners, always taking care of you, speaking of the last world news, meeting new employees , help to build a very trustful and very human business relationship, key to a good turnover. Partners in crime in all aspects of creation, customers often mix fragrances from different suppliers, to create a unique scent with their Identity and the Dubai style. There is clearly a Dubai style in terms of fragrances, a style which allows Dubai to become one of the most important cities in the world of perfumery. Dubai economy has grown dramatically in the past 20 years, its population as well. Skyscrapers have flourished like mushrooms after the rain and its wealth for a long time now doesn't depend on oil anymore. It became a five stars tourist destination, a business hub and a new Eldorado of perfumery and luxury goods in general. Because middle eastern perfumery is in phase with International trends of tailor-made perfumes, exclusives collections, gold and black packaging, very precious ingredients, it is seen as a trend setter of perfumery.
You can experience in Dubai unique perfume moments. For example seeing a whole family sitting for hours in a perfume shop to choose its perfumes. Like in a 17th century Parisian Perfume shop, comfortable on a sofa, they drink a sap of coffee and smell the new fragrances presented on a tray or mix themselves some of the last attars they choose. The customer can of course order a tailor-made body lotion or bakhoor with the same smell, made exclusively for him in the "back-office". Finally the customer can decide if he prefers Baccarat or Bohemia crystal for his bottle. Price is not important, for the end customer as for the professionals and raw material cost is usually a bit higher than in Europe.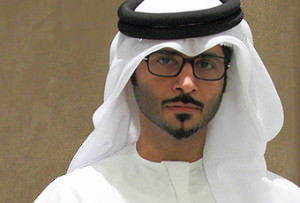 Mohammed Hilal photo MHGroup
Emiratis are not fascinated anymore only by Western Luxury and with more confidence, they look for more local brands. They want creations inspired by their History, their codes. A great example of this is the popularity in the region of Mohammed Hilal and his three brands Hind Al Oud, Anfasic Dokhoon and Khaltat Blends of Love, And nobody will stop them. If Oud was unknown in the West for centuries, it now conquers the world of perfumery. If at first local brands like Arabian Oud or Al Qurashi were developing in the Islamic world, they now open flagships in London or Paris. They offer their perfume expertise to the world.
I was passing by an Arabian Oud shop on the Champs-Elysees a few weeks ago and was amazed to overhear two Texan girls choosing a classical bottle of Khalemat (a classical fragrance from Arabian Oud) as they felt it was perfectly appropriate to wear back in Austin. The richness of the fragrance, the magnificence of the bottle, simply touched them.
And that is finally what I will remember from these 1000 days spent in the region. We couldn't agree on everything and our way of life is different but the authenticity of people, the richness of culture and the great perfumery market touched my soul deeply. Back to Paris and to my roots, I will always keep a grain of sun, a ray of light and a taste of the sugary dates as my little Middle Eastern treasures.
Pierre-Constantin Guéros, Guest Contributor and Perfumer at Symrise Paris (all Photos by Pierre unless otherwise noted)
What a blessing this article is a travelogue into a part of the world few of us will see or experience, Thank you Pierre for sharing 1000 days in Dubai and thank you Hernando Courtright for putting us in touch; you are truly the ambassador ofÇaFleureBon